COVID-19:  Our facilities are now open to the general public, with limited access.  Face masks are required to be worn in all public settings, to protect our employees, guests, and customers.  Please contact us if you require any further information.

---
Wood Utility Pole Manufacturer
Celebrating 90+ Years in Business!
The Oeser Company has been supplying wood utility poles to North American utility markets for 90+ years. We are large enough to handle the requirements of major utilities throughout the nation, while at the same time capable of giving close personal attention to utilities of all sizes.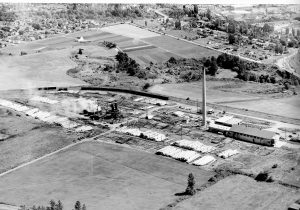 Specializing in:
 Coastal Douglas Fir Utility Poles
 Western Red Cedar Utility Poles
 Custom Framing
 Preservative Pressure Treatment
 Shipment via Truck or Rail across North America
Environmental Excellence
Operating a treating plant involves complex environmental practices and regulations. Oeser has staff dedicated solely to effective performance of these functions. Through effective operation of our environmental control facilities we consistently achieve regulatory standards. Since 1997, Oeser has been working in cooperation with the United States Environmental Protection Agency to address historical conditions. This assures our customers that their products are produced at one of the most environmentally sound treating facilities in the nation.