ANNOUNCEMENT – The Oeser Company is pleased to be joining the Bell Lumber & Pole Company family as of September 1, 2022. You can read more in the official announcement here.
Bell Lumber & Pole is a family-owned company that has served the utilities sector since 1909, delivering industry-leading expertise, high-quality custom utility poles, engineered wood structures, and a commitment to excellence that spans five generations.
"This is a great step forward for both Bell and the Oeser Operations," Chris Secrist, Owner of The Oeser Company, said. "We are confident that this will result in the ongoing operations of the Bellingham plant for decades to come. We are excited to be joining a team that cares just as deeply about its employees and serving customers as we do."

---
Wood Utility Pole Manufacturer
Celebrating 90+ Years in Business!
The Oeser Company has been supplying wood utility poles to North American utility markets for 90+ years. We are large enough to handle the requirements of major utilities throughout the nation, while at the same time capable of giving close personal attention to utilities of all sizes.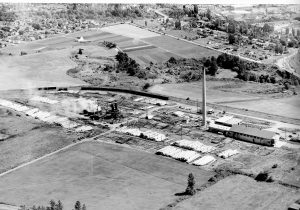 Specializing in:
 Coastal Douglas Fir Utility Poles
 Western Red Cedar Utility Poles
 Custom Framing
 Preservative Pressure Treatment
 Shipment via Truck or Rail across North America
Environmental Excellence
Operating a treating plant involves complex environmental practices and regulations. Oeser has staff dedicated solely to effective performance of these functions. Through effective operation of our environmental control facilities we consistently achieve regulatory standards. Since 1997, Oeser has been working in cooperation with the United States Environmental Protection Agency to address historical conditions. This assures our customers that their products are produced at one of the most environmentally sound treating facilities in the nation.