The Oeser Company specializes in the manufacturing of Douglas Fir and Western Red Cedar utility poles in accordance with the latest ANSI 05.1 and AWPA C-1,C-4 specifications in lengths ranging from 20 to 120 feet.

Harvesting
The Oeser Company's location in the Pacific Northwest gives us access to federal, state, industrial, and private timberlands in the US and North Western Canada. With this wide resource base we have a stable, and ongoing supply of raw material. You can count on us to meet your requirements.
Poles require specialized logging techniques. Our foresters and loggers are specially trained in locating and removing prime pole timber. Coupled with our favorable location, our expert crews allow us to maintain the quality for which we are known.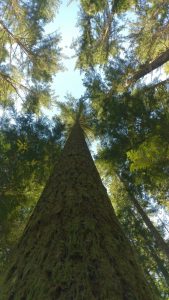 Peeling
Pre-selected material is machine-peeled and inspected for conformance to all requirements of ANSI 05.1 specifications . Only the material that meets all of these requirements is then accepted as pole stock.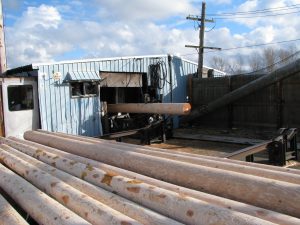 Seasoning
Poles are seasoned with a combination of air seasoning and boultonizing (heating in the preservative solution while under vacuum).
Custom Framing
At Oeser, every pole is custom made by skilled crews, with specialized equipment to handle each pole with care.  Our standard practice is to re-inspect all material for conformance to our customer's requirements.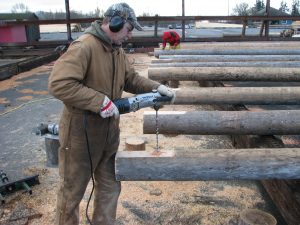 Preservative
We pressure treat with a 5% solution of Pentachlorophenol meeting the requirements of American Wood Preservers Association (AWPA) specifications P-8 & P-9 Type 'A'.
Treatment
Oeser uses the Lowery pressure treatment process, which is the most thorough method used to protect wood products against decay, weathering, insect damage and meets all the requirements of  AWPA C-1 and AWPA C-4 specifications. Oil-borne preservative is forced into the pores of the dried wood at working pressures of up to 120 pounds per square inch, giving deep uniform penetration.
Quality Control
The Oeser Company strives for thorough quality control throughout the entire organization. Oeser's key to quality is the experience level of our employees, most with 10 to 40 years of producing a premium product. Complete inspection and sampling are routinely conducted at our on-site testing facility.