Trucking
Major trucking companies, specializing in the transport of utility poles are available for shipment of poles.
In response to emergency situations, our company contract hauler can adjust his schedule to help meet your immediate needs.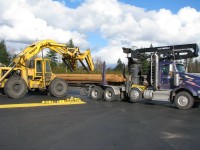 Rail car
Oeser is serviced by the Burlington Northern Sante Fe (BNSF) railroad with its onsite rail car track.
Economical rail shipment is available to all yards having rail access, as well as those without rail access, as additional transportation arrangements can be made.
The BNSF has made significant investment in the specialized cars designed to carry poles in order to ensure safe deliveries.