Available in Douglas Fir and Western Red Cedar, we provide posts and stubs in a wide range of sizes.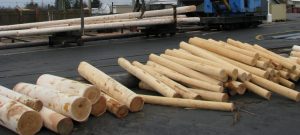 Species Available
Douglas Fir.
Western Red Cedar.
Sizes Available
Top Diameter: 6-24 inches.
Length: 1-18 feet.
Larger sizes may be available upon request, please contact us for details.
Treatment Available
Pressure Pentachlorophenol treatment.
Posts and Stubs are available untreated.
Pricing & Availability
Pricing and availability varies. Please contact us for details.